There are so many wonderful items which would make memorable gifts for a newly married couple.  A couple's wedding registry would certainly provide well-wishers with an abundance of suggestions.  Having a gift custom crafted and personalized is undoubtedly a wonderful way to celebrate the Bride & Groom's union, as well.  Our Serving Trays can be custom carved with the couple's surname or their monogram to commemorate their special day.  The Serving Tray's surface area is your blank canvas waiting to be carved with your unique design.
This recent creation featured the Bride & Groom's names, along with their surname and the year of their family's establishment.  We hope the lovely couple enjoys their new Serving Tray for years to come – in serving one another and practicing hospitality.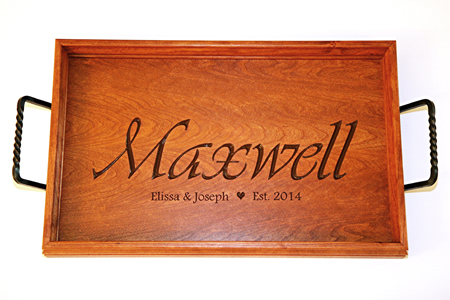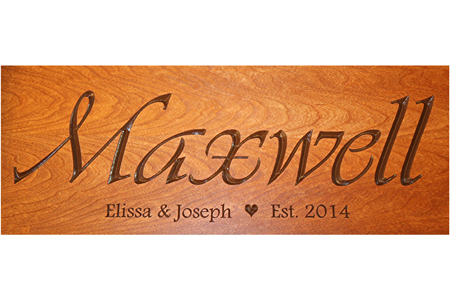 All the best to Elissa & Joseph Maxwell.  We wish you peace & joy.
Congratulations from all of us here at Gathering Wood.
http://gatheringwood.com/wp-content/uploads/2013/07/Gathering-Wood-Website-Logo.jpg
0
0
R vV
http://gatheringwood.com/wp-content/uploads/2013/07/Gathering-Wood-Website-Logo.jpg
R vV
2014-09-13 20:51:25
2014-09-14 01:02:48
Personalized Gifts for the Bride & Groom